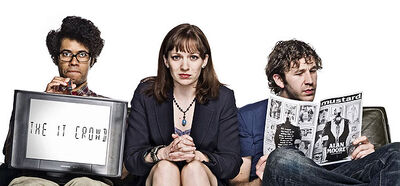 Welcome to Off and On Again Wiki

Edit
Off and On Again Wiki is an excyclopedia about everything related to Graham Linehan's BAEFTA-award-winning creation, The IT Crowd. Feel free to edit articles, create your own pages and upload images as you wish.
The IT Crowd
Edit
Graham Linehan, critically-acclaimed writer of Father Ted and Black Books, first broadcasted his situation comedy, The IT Crowd, in 2006. Since then, the show has become a hit and has won a BAEFTA for Best Situation Comedy, an International Emmy and the 'The BSG Readers' Award'.
The plot revolves around the work lives of three IT department employees: Roy, an Irish comic-book reader who indulges himself on sugar and everything non-work related, Moss, the 'uber-geek' whose social life resembles that of an axe-murderer, and Jen, the opposite of both of them, who knows nothing about comp-uters. 
Latest activity
Edit